KARAMAD'S KAYAK INDIAN SUMMER - "Summer"

---
July 5. 1996 to February 5, 2006

Summer was a wonderful house companion. Her easy going personality made her a joy to share time with. She loved just hanging out. She was a lovely blend of her parents and a real sweetheart to live with.
Sleep tight my friend, we miss you.


You must have been a beautiful baby . . . .
Summer
was awarded Best in Sweeps with an entry of 43 puppies under Ms. Bernadette Quercio-Steele at one of her first shows Jan.24,1997. She also won her class or placed the other 2 days with entries of 13 puppy girls in the 6-9 class. At just over 6 months of age she showed us what a showgirl she can be.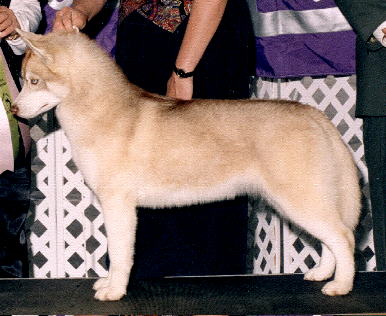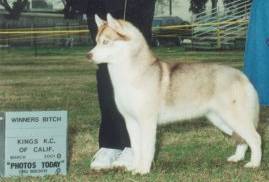 . . . .because baby, look at you now !!
| | |
| --- | --- |
| OFA SH-13293E34F-T | SHOR# SH7525/03 |
Bred by: Sherri Del Pozo & Marcy Lew & Cheryl Patchen
Owned and loved by: Marcy Lew, co-owned with Sherri Del Pozo & Lori Winton

Summer is the producer of:
Courtesy of Amahok's Chadron Pride of Troy:

Chyndadn's Kayak Indian Angel - "Indi"


 
Red & white female 
Blue eyes
DOB 7-5-96

                                   CH. SAHARA'S SNOWDANCER                                    
                    CH. RAINY NIGHT'S DEBUT OF SYNTARI 
                                   Bldiask's Prime Time Toots 
               CH SYNTARI'S SAMIQ
                                   CH. ARTICREST'S NATURAL RHYTHM                    
                    CH HUSKAVARNA'S MINIMUM WAGE 
                                   CH KONTOKI'S PICK-UP ARTIST

 Karamad's Kayak Indian Summer
            
                                   CH AMAHOK'S FRONTIER JUSTICE
                    Amahok's Fugitive From Justice
                                   CH. CraKARA'S SUMIRO C-MY BB BLEUS
               Karamad's Windswept Snowblink 
                                   CH. AADAK'S HERE'S LOOKINATCHA KID
                    Tanacross Look Who's Talking
                                   Tanacross Tanqueray "N" Tonic 



Return to Top of page

Return to The Gang
Back to KAYAK Siberians Home Page