KAYAK'S SASSY CHASSIS - "Sassy"

---
Sassy lives true to her name. She always has something to say. Sassy is the fun instigator in the yard and always on the go. Her movement is impeccable. Those beautiful brown eyes and the cock of her head will melt your heart.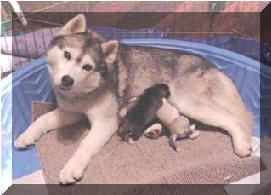 | | |
| --- | --- |
| OFA SH-13293E34F-T | SHOR# SH7523/03 |

Producer of:

Kayak's Karamad Sumiro Citabria - "CC"

Kayak's Public Enemy Number One - "Dillinger"


Gray and white female 
Brown eyes
DOB 10-12-96

                                   CH. AADAK'S HERE'S LOOKINATCHA KID                                    
                    CH. NEECHEE'S SNOWFIRE DARKSHADOW
                                   CH. SNOWFIRE'S APRIL EDITION 
               AM/INT/MEX CH. KARAMAD'S KEY LARGO
                                   AM/MEX CH. KARNOVANDA'S SILVER FOX 
                    Camber's Silvermist of Karamad 
                                   Cam of Miroskima 
 Kayak's Sassy Chassis            
                                   CH. AMAHOK'S ROB 'N' PLUNDER 
                    CH AMAHOK'S FRONTIER JUSTICE
                                   CH. AMAHOK'S GENUINE REFLECTION
               Kayak's California Dreamn' 
                                   CH. AMAHOK'S STAR TREKKER 
                    Kayak's Amahok Tasha Yar
                                   CH AMAHOK'S GENUINE REFLECTION 




Return to Top of page

Return to The Gang
Back to KAYAK Siberians Home Page